Useful accessories can also be highly effective promotional tools
Lanyards (also named keycords) are ribbons which you can wear around your neck or wrist and attach many items such as USB-sticks, keys or badge cards. They are available in various standard colours and PMS colours are also possible! Usb-stick Producer offers plain or printed lanyards that suit every budget and can be used in various applications.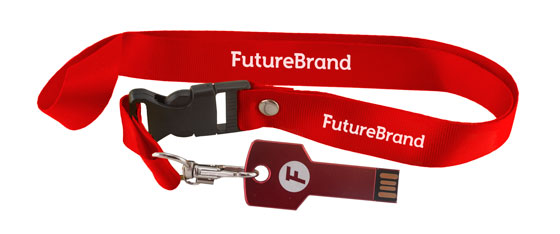 Why choose a printed lanyard?
The possibility to print your own text or logo on a lanyard provides you with an excellent portable promotional tool. Lanyards constitute an inexpensive but very effective way to convey your company's image. A major benefit of printing your logo on a lanyard is that its carriers and their surroundings are constantly in contact with your company's logo. This promotional item is great to hand out during open days, conferences, exhibitions or other events of any kind, and it is enthusiastically received when distributed!
Our high-quality printed lanyards come at a very competitive price. They can be printed double-sided and according to your exact specifications. Make sure that your company's logo stands out at any event and that you provide your potential or existing customers with a useful accessory!
Would you like to know more about your options?
Feel free to contact us directly. We are happy to help!