Top gadgets for promotional use
Do you want to make a unique impression with the perfect promotional USB business gift?Usb-stick Producer has the optimal solution for you. We offer a wide range of USB-sticks that can be fully customized with your company's logo. Offering a USB business gift is a great promotional technique in order to build and strengthen relationships with potential and existing customers.
Whether you own a small business, large corporation or organization, a USB business gift can be a promotional part of your marketing activities which can maximize the attention and impact of your company. Our wide range of USB-sticks provides you with multiple choices according to your company's image and own preferences. You can choose among a variety of memory capacities, colours, materials and printing options in order to offer a fully customized USB business gift. You can view our full range of USB-sticks here.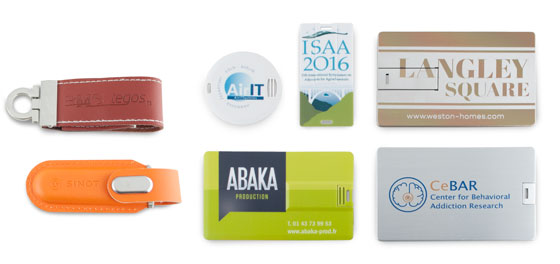 Why choose a USB-stick as a business gift?
These high-tech gadgets constitute a promotional item which is also useful for your clients and is definitely a modern alternative to a standard old business card of other business gifts. With a USB business gift you can market your brand in a way which reflects a cutting edge and also the desirable corporate image that you aim at presenting. Moreover, the opportunity that Usb-Stick Producer offers by uploading data constitutes an effective and sustainable way to share any content of your choice with your customers.
Make sure that your company gains all the attention it deserves by using the best promotional tool for brand awareness and recognition: USB business gifts.
Would you like to know more about your options?
Feel free to contact us directly. We are happy to help!